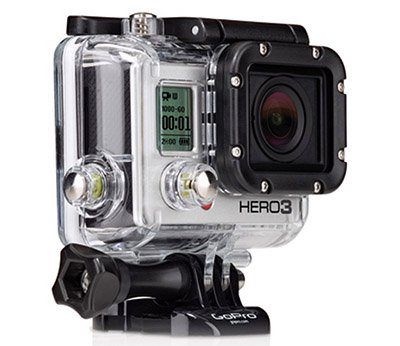 [Note: we moved this post to our online film school, Indie Cinema Academy, since that is a better place for it.]
As point of view (POV) camera image quality increases, they are being use more and more in projects with high production value, including feature films. As a result film techniques and support gear of the past has had to be rethought and redesigned in order for camera operators to fully utilize these lightweight, compact cameras.
A prime example of a powerful POV camera is the GoPro HERO 3: Black Edition with its 4k 15p resolution (and more realistically the 2.7k 30p mode, since who works at 15 fps?). There are a lot of other POV cameras on the market—including the Contour +2, JVC GC-XA1 Adixxion HD Action, and Sony HDR-AS15—but let's be real: the Hero 3 OWNS the POV market right now. As proof of their near monopoly of this niche market, camera support companies not affiliated with GoPro Hero are tweaking their gear so that it works smoothly with these ubiquitous POV cameras. Below is a complete list of GoPro Hero 3 accessories, focusing mainly on aftermarket manufacturers.
GoPro Hero 3 Aftermarket Accessories
While at NAB 2013 I decided to zero in on all of the aftermarket companies designing products to be used with the GoPro Hero. While I attempted to make this list all-inclusive, I am sure I missed one or two companies as I check out the millions of products from thousands of vendors. I decided to skip over all GoPro branded support gear because 1) they have already been reviewed to death and 2) they don't really advance the functionality of GoPro Hero cameras all that much. I know of some aftermarket companies who didn't attend NAB so I was not able to talk with them personally about their products. Since I want this list to be complete as possible, please leave a comment if I left a product out and I will update this list accordingly.
VectorMount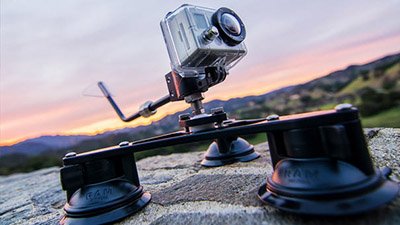 I've been looking for a product like this for years, ever since I the first time I tried to mount a POV camera to my road bike back in 2006: something that would dynamically balance the camera as the mounting vehicle moved in space. Since VectorMount's niche is cars and not bikes, their solution didn't solve my specific problem. However their well thought out products really inspired me.
Their VectorMount GO mounts to a vehicle (dune buggy, race car, etc) and actually tracks the action around you! If you want the GoPro Hero to stay on the car in front of you, it will no matter how much you drift or turn. Same goes for a car behind you. It does this through the use of drag (via a wind vane) and centrifugal force (via a small, adjustable counterweight). So that it doesn't overcorrect during intense turns, there are silicon inertial damping within the mount.
There are four ways to attach the VectorMount GO to your car: suction cups, rollbar clamps, weld-mounts or fix it to your dune buggy flag mount. The VectorMount Tri-Base Suction cups can handle speeds of 150 MPH and won't mar the surface of your vehicle.
Late last year the National Hod Rod Association (NHRA) ruled to ban plastic camera mounts on competition vehicles. However since VectorMounts are all metal, NHRA allows them (as long as the plastic GoPro Hero mount is replaced with a metal housing, such as from Unruly). In fact even though VectorMount only launched back in September 2012, they are already the official mount of NBC Sports' Formula Drift and are being eyed by many in race car and go-kart racing industry.
Check our the VectorMount GO in action!
Unruly
Unruly is the first company to build an anodized aluminum frame for GoPro Hero products. They come in two varieties: the Headgear surrounds your waterproof GoPro Hero housing, while the Headcase completely replaces it. (Note: although the Headcase is sealed, it is not meant to be taken underwater.) The camera is mounted within the Headgear via a clamp on the top of the cage and a long screw on the bottom that goes through the waterproof housing's mount point. The Headcase, on the other hand, is a complete case that surrounds the camera just as the GoPro Hero waterproof housing does.
These frames not only protect your GoPro Hero camera, but they add numerous 1/4″-20 mounting points. Now you are no longer enslaved to those odd GoPro Hero mounting fingers.
Currently Unruly only has cases for Hero and Hero 2. Do not worry, though…they are currently wrapping up production of Hero3 cases and will be shipping them shortly.
RedRockMicro Cobalt Casing
In April 2013 RedRockMicro came out with their own line of frames for the GoPro Hero, Hero 2, and Hero 3 called the Cobalt Cage. Made of anodized aluminum it is COVERED with 1/4″-20 taps to you to attach whatever your heart desires.
While similar to the Unruly cage, it seems that it does not affix the camera within the cage as well. While Unruly uses a top clamp and a bottom screw, the Cobalt Cage only has a thumbscrew that presses a wedge against the camera. As a result the bottom part of the camera is a bit more loose. That being said the Cobalt is a great, inexpensive option for people who need more mount points for their GoPro Hero 3 and who want a metal case to protect their camera.
Lehmann Aviation Gliders
Getting your GoPro Hero 3 up in the air is on nearly every filmmaker's mind, because there are a lot of amazing shots to be had from the heavens. For the past few years the only option has been to hire (or learn to fly) a radio controlled helicopter. These are difficult to fly and are fairly expensive aircrafts costing in the tens of thousands of dollars.
But what if your project has a limited budget and the shot you are looking for is a simple flyby or? Or perhaps you are a geologist (or a spy!) looking to photomap the ground or do some reconnaissance. The UAVs made by Lehmann Aviation might be the exact vehicle you are looking for.
LFPV in action from Lehmann Aviation on Vimeo.
You don't have to know how to fly it because it flies itself. You launch it, it flies, then it comes back to you 5 minutes later. If you task is more complicated you can use the Operation Center which allows you to program in where you want the UAV to fly using a touchscreen.  That simple. If you need even more control they offer a ground control system that allows you to fly it more precisely.Able to fly at night and handle heavy winds, these UAVs use GPS and other sensors to find their way and land themselves.
DJI Phantom Quadcopter
For those wanting the control and flexibility of a helicopter to maneuver their GoPro Hero 3 just where they want it, DJI created a quadcopter called the Phantom UAV
that is just for the GoPro Hero. It is a Ready-To-Fly helicopter right out of the box. Stable and easy to fly, its integrated GPS systems give you features such as auto return-to-home, position hold, and Intelligent Orientation Control allowing better framing of your shot no matter which direction the Phantom is flying. It is also a very compact and sleek quadcopter making it easy to fly in tight quarters and to transport.
You can be a complete beginner and still successfully fly this quadcopter on Day One. The DJI engineers did all the work for you by programming the Phantom with autopilot technologies to it makes all the needed adjustments to keep it level as you fly it on your shoot. It even adjusts for wind, which is amazing since light helicopters like the Phantom normally get blown around something fierce, especially for beginners.
360Heros
Greatly thinking outside the box are the people at 360Heros. (Note: yes they spell it that way…get over it! 😉 I've only seen one other company (AirPano) do something similar using modern compact cameras, but 360Heros is the only one actually selling the support device that will hold the cameras as well as the software to stitch all the footage/images together.
Check out their sample video shot (coincidentally) in Portland, Oregon where Bleeding Thorn Films is based.
The resulting product currently can only be viewed using video codec provided by the company. However since the image information is all there it wouldn't be a huge leap to create an interactive movie or documentary where the viewer could explore the space of the film independent of the director or the camera operator. It is this concept that excites me the most.
For traditional filmmakers a device like this could be useful when you want to paint out the support device, be it a jib a monopod or a pole. By using different cameras in different orientations, the combined information for each of the cameras might be enough to erase the support device. An example of this can be seen in this AirPano video; notice that the pole holding the cameras out the window is completely erased.
Floydie Gloves
Filmmakers who design their own gear are where a lot of the best products are born. Craig Floyd is an example and his passion for his product was obvious as I chatted with him at his NAB booth. Floydie Gloves are a useful product for skydivers and other GoPro Hero users who need to have a wrist mount that is easily adjustable. GoPro Hero offers a fixed wrist mount that is very limited, probably created just to fill the category of "wrist mounts." However, while the Floydie is much more functional, it does seem like it is still a version 1.0. My guess is that the prototype was an Ace wrist bandage with a fabric pouch sewed on to hold a GoPro Hero. Honestly though, a GoPro Hero user doesn't really need much for a wrist mount, and I can't think of how I would make it better. And if the price were a bit lower (half?) I may just buy one for the next time I jump out of a perfectly good airplane.
Brownstone Beam
With a light POV camera, jibs that hold them can be lighter and simpler. Enter Brownstone Beam, which is comprised of Thomas Harris (owner and inventor), along with his brother Chett who helps out with sales. With a previous career as an aerospace engineer, Thomas is the right man for the job when it comes to using lightweight materials to create a functional jib.
Brownstone Beam has been designing handheld jibs for 10 years, but their POV jib was launched in only a few months before NAB. It is a pretty clever product, so much more than DIY GoPro Hero jibs. Using cables within the titanium pole, the operator can make the camera head do unlimited pans when there aren't wires running from the camera, 270 degrees when there are. Panning is control by a knob on the end of the jib. There is an option to add a motor to control the tilt of the camera. Within the pole there is room for HDMI and power cables for the camera and the tilt motor.
As of this writing the Brownstone Beam POV jib is still in development and so is not posted on their website. But stay tuned!
Wasabi Batteries
A common complaint with the GoPro Hero 3 is that it eats batteries. Part of this is due to usage of the WiFi connection to monitor the image and control the camera. Whatever the reason you WILL be changing these batteries often. When I first bought my Go Pro Hero 3 Black I took it with me on a snowshoeing trip down Mt Hood and had to change the battery every 30 minutes. Sadly, I only had two batteries so the camera died before the trip was over.
As I looked into my options, I was not surprised that GoPro Hero wanted $20 for each battery. Consumables is often where camera companies make their money. Then someone told me about the Wasabi battery made specifically for GoPro Hero 3. Not only do you get TWO batteries for the price of one GoPro Hero 3 branded battery, but they did one better: they included a simple wall charger for the batteries, something that GoPro Hero has yet to make! (Despite years of customers begging for a way to charge GoPro Hero batteries separate from the camera, GoPro Hero never stepped up instead requiring all batteries be charged within the camera. This small point created a huge bottleneck for those needing to charge multiple batteries at the same time.)
I personally love these batteries and find that they actually last longer than GoPro Hero branded batteries.
(Tip: To make whatever battery you use on your GoPro Hero last longer, turn off OSD (on screen display) and WiFi whenever you don't need it. Even if you aren't using these two features, they are still sucking power from the battery.)
EbairSoft Silicone Protective Housing
The GoPro Hero waterproof housing can easily get scratched, especially when used in harsh environments such as motorcross, mountain biking, and racing dune buggies. Replacement housings from GoPro Hero cost $50, and replacement lenses are $20 (plus you have to risk unscrewing the lens). EbairSoft designed a simple $12 product to help you protect your investment: a silicone case that completely surrounds your camera. Smart!
EbairSoft makes a lot of other GoPro Hero accessories, both for GoPro Hero 2 and GoPro Hero 3. Lots of colors and products to customize your GoPro Hero. Check them out and let me know what you think of them.
PolarPro Filters: Polarizer & Underwater Color Filter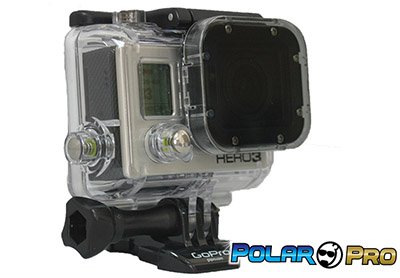 Polarizers are a common filter that a filmmaker would never leave home without. There are many different sizes and styles to chose from. However, none of them work on a GoPro Hero without significant modifications. This can be a big problem since GoPro Hero cameras are often used where glare is a big problem: around snow and water.
PolarPro came up with an easy solution: a filter that doesn't require the waterproof housing to be disassembled. Instead it is a transparent polarized cap that you put on the waterproof housing. It is a fixed polarizer so you can not dial it in. But most likely it is set at an angle that filters out reflects from below, which is where you need it when on snow and water.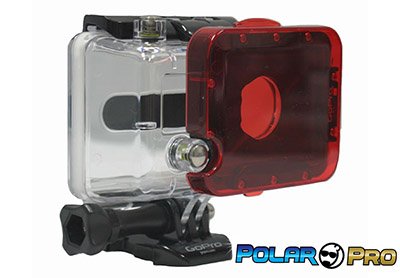 A significant problem that GoPro Hero 2 cameras had were that focus was extremely soft when the camera was underwater. The problem was caused by the waterproof housing over the lens being spherical instead of flat. The redesign for the Go Pro Hero 3 fixed this. However they didn't address a second problem when filming underwater: the deeper you go in the water, the more shorter wavelengths get absorbed and filtered out. The obvious solution would be to make it possible to add colored filters to the front of the GoPro Hero.
What GoPro Hero failed to do, PolarPro did. Their inexpensive red dive filter easily clips on the camera and greatly fixes the color. I haven't tried it out or run tests on it, so I don't know how accurately it filters out the blue. But it is a great solution and, if not perfect, I'm sure they will refine the colors so that it balances the color temp. (Note: currently this product is only available for GoPro Hero 2. The GoPro Hero3 version will be available soon.)
-Tim
https://mazamafilms.com/wp-content/uploads/2013/05/GoPro-AKS2.jpg
675
1200
Tim Park
https://mazamafilms.com/wp-content/uploads/2016/08/mazama-horizontal-hi-RGB-340web.jpg
Tim Park
2013-05-15 12:47:58
2014-08-21 08:52:45
GoPro Hero 3: Complete List of Third-Party Accessories